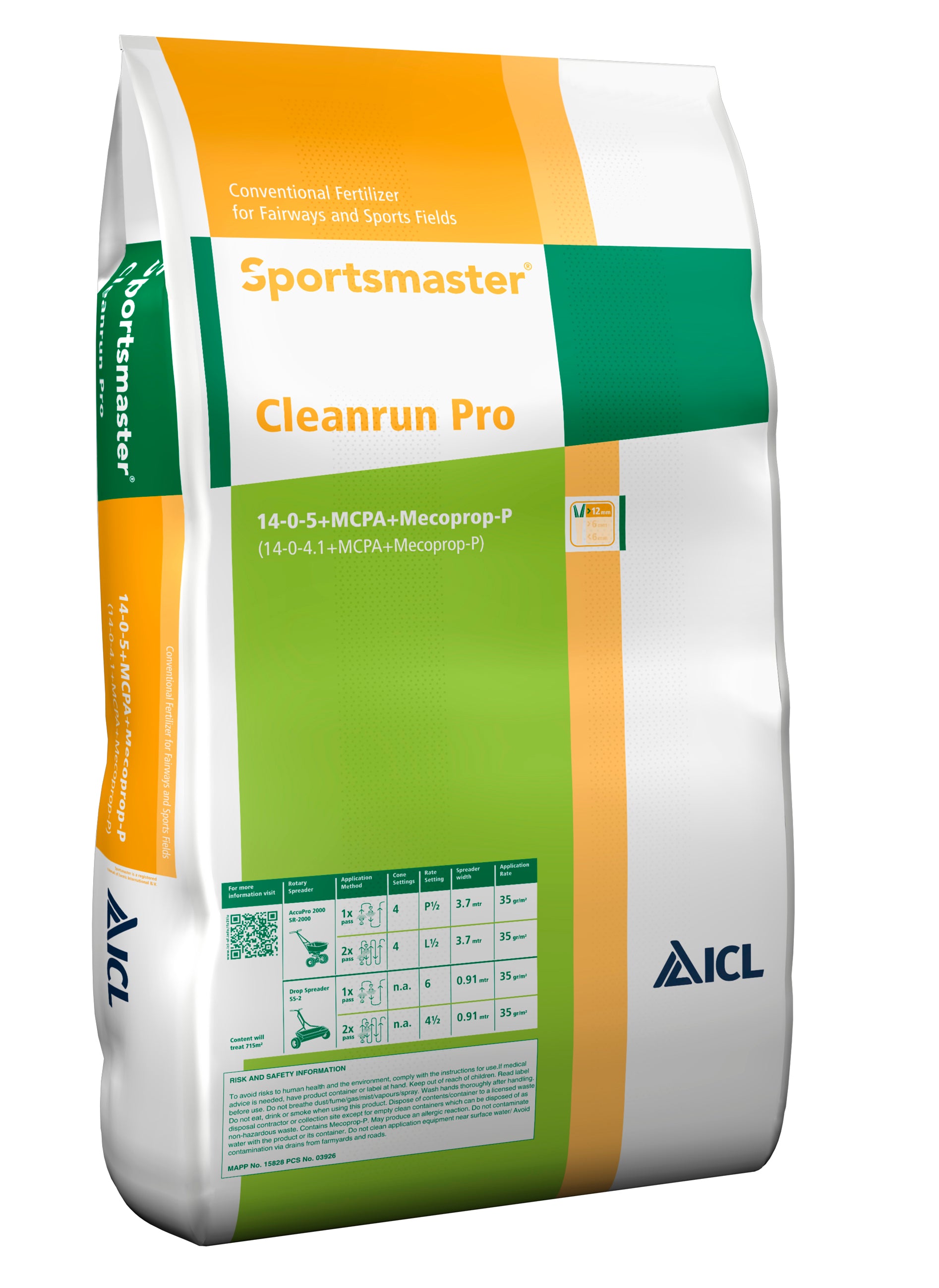 Description
Fertiliser & Weedkiller
Active Ingredients: 0.490 % w/w MCPA and 0.290 % w/w mecoprop-P
Mapp No. 15828
ICL Sportsmaster fertiliser is well established range for turf mown above 6mm maintaining turf performance throughout the year. With a mini-granular formulation Sportsmaster range enables even spreading and a rapid breakdown for an immediate and consistent response. Cleanrun Pro contains 2 selective weedkillers MCPA and mecoprop-P.
Ideal for use with Tees, Fairways, Amenity and Sports fields.
---
Benefits of ICL Sportsmaster Fertiliser
Longevity: 6 weeks
Turf Response: 7 days
Granule Dispersal: 4 - 5 days
Ideal balance of NPK to strengthen turf.
Mini-granules provide ease of application and an even distribution.
True compounds with each granule containing the desired spread of nutrients.
Ensures even growth, quality and colour over the whole area and prevents the unsightly speckling effects.
Versatile application rates, as low as 35g/sq.m enabling one bag to cover 714sq.m making them very economical.
Single application in spring and summer periods when broadleaved weeds are present.
---
Application Information
Bag Sizes (kg)
Application rate (g/m2)
Bag Coverage (m²)
Nutrient Levels Applied kg/ha
N
P
K
25
35
714
44
0
17
Periods of use
Application Window
Jan
Feb
Mar
Apr
May
Jun
Jul
Aug
Sep
Oct
Nov
Dec
---
For orders of any (same brand or mixed) quantities of ICL fertiliser over 10 bags please ring the office on 01952 897917 for a trade price or for any further information
For further information on ICL Sportsmaster Cleanrun Pro, please contact a member of our technical sales team on 01952 897917.
---
Find more information in our guide
How To Weed and Feed Your Lawn
Safety Data Sheets
| SKU | Product | Safety Data Sheet (PDF Link) |
| --- | --- | --- |
| F178 | ICL Sportsmaster Cleanrun Pro 14-0-5 +MCPA +Mecoprop-P 25 kg | Safety Data Sheet (PDF) |
Safe use of pesticides
The purchaser and/or end users are responsible for ensuring that these products are used in line with industry Approved Codes of Practice. All operators must be trained and certificated in using and applying any Ministry Approved professional product.
Please be aware that by proceeding you are purchasing a professional pesticide product.
You must ensure the end user of these products complies with the DEFRA/HSE Code for the Safe use of Pesticides:
"By law, everyone who uses pesticides professionally must have received adequate training in using pesticides safely and be skilled in the job they are carrying out."