NOT CURRENTLY AVAILABLE. PLEASE CONTACT OUR SALES TEAM FOR AN ALTERNATIVE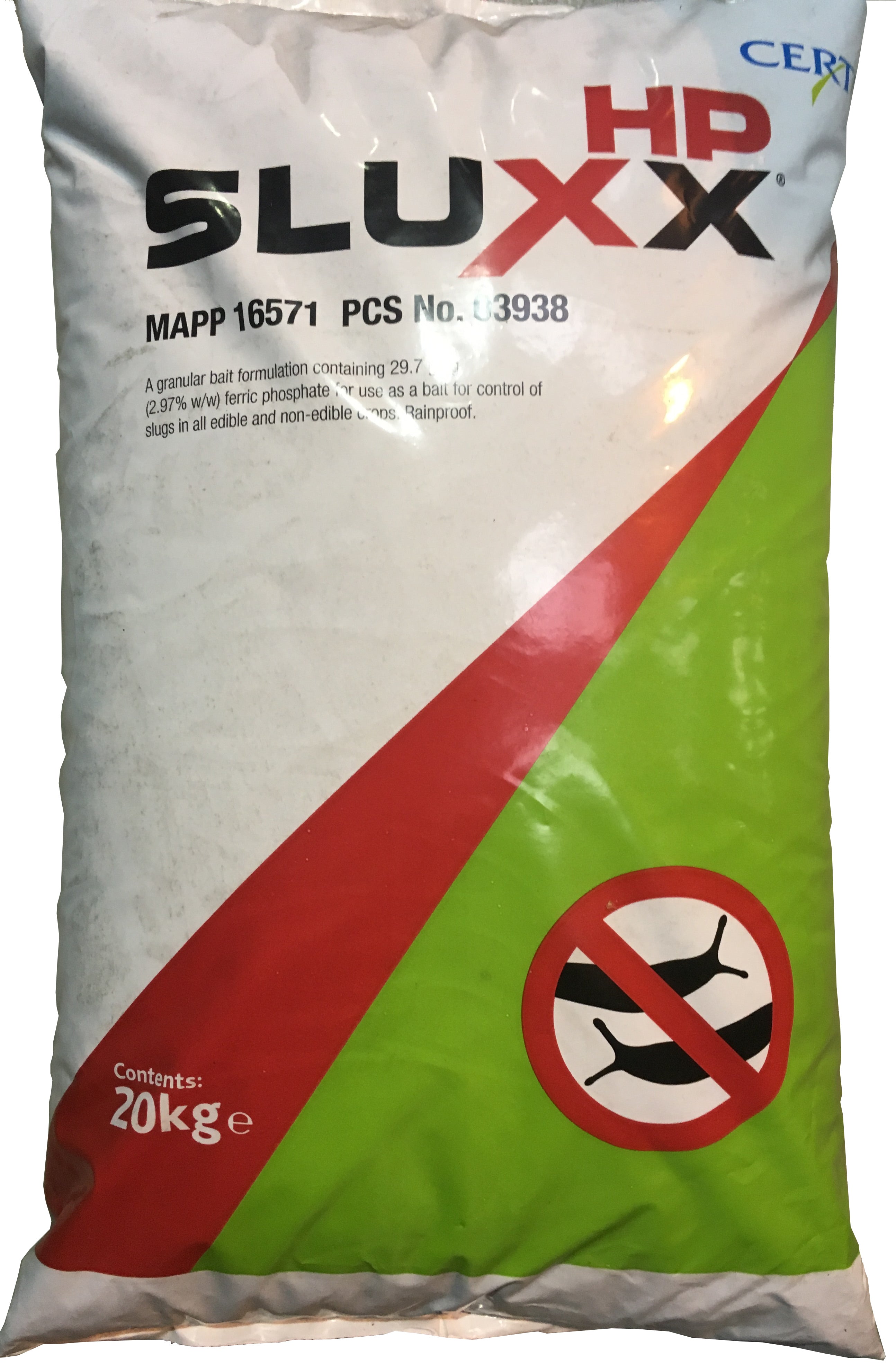 Description
Product Overview
Product Type
Molluscicide
Product Name
Sluxx HP
MAPP No.
16571
Active Substances
29.70 g/kg ferric phosphate & 21.06 g/kg ferric phosphate (anhydrous)
Formulation
Granular
Areas of Use
Amenity vegetation, all edible crops, all non edible crops
Amateur/Professional
Professional
Phytomobility
Contact action (ingestion)
Sluxx HP is a high quality granular bait which is authorised for the control of slugs in amenity vegetation, edible crops and non edible crops.
Once digested, the active substance in Sluxx HP, interferes with calcium metabolism in the slugs stomach. This causes the slug to stop feeding, reduces mobility and the slugs die within 3-6 days. Feeding reduction is seen rapidly after application of Sluxx HP resulting in a reduction in crop or plant damage.
Sluxx HP granules have good resistance to weather and can remain effective even after 7 days and following rainfall.
---
Application Recommendations
Where to use
Sluxx HP has on label approval for use on the following crops:
Amenity vegetation
All edible crops
All non edible crops
When to use
Sluxx HP should be applied directly after sowing or planting out. As slugs can be active all year round, it is best to apply Sluxx HP when plants are at their most susceptible to damage.
Application Window
Jan
Feb
Mar
Apr
May
Jun
Jul
Aug
Sep
Oct
Nov
Dec
How to use
Apply evenly for the best results as slugs are random feeders and encounter food sources by chance.
Sluxx HP can be applied at a rate of up to 7 g/m2 for a maximum of four applications per year.
If rain is heavy or continuous, or if slug damage continues to occur, a repeat treatment can be applied as early as seven days after application.
---
Active substances
Ferric phosphate
Chemical group: Ferric phosphate has a contact mode of action which relies on ingestion.
Bio-chemical mode of action: Ferric phosphate works by disrupting calcium metabolism in the slugs stomach which causes it to cease feeding.
Mobility: Ferric phosphate must be ingested by the slug to take effect.
Application timing: Ferric phosphate should be applied when slugs are active and plants are at a susceptible stage.
Resistance: There are no records of resistance to plant protection products containing ferric phosphate for slug control.
---
For further information on Sluxx HP please contact a member of our technical sales team on 01952 897917.
Safe use of pesticides
The purchaser and/or end users are responsible for ensuring that these products are used in line with industry Approved Codes of Practice. All operators must be trained and certificated in using and applying any Ministry Approved professional product.
Please be aware that by proceeding you are purchasing a professional pesticide product.
You must ensure the end user of these products complies with the DEFRA/HSE Code for the Safe use of Pesticides:
"By law, everyone who uses pesticides professionally must have received adequate training in using pesticides safely and be skilled in the job they are carrying out."