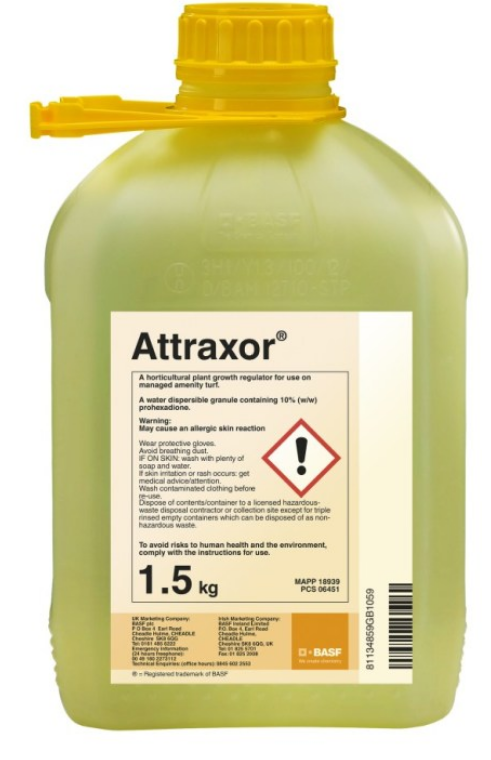 Description
MAPP no. 18939
Active Ingredients: 100 g/kg prohexadione.
Attraxor® is a plant growth regulator containing the new active substance, prohexadione. Attraxor® can be used to regulate growth of all managed amenity turf (for example: golf, links golf, sports pitches and training grounds, outfields, race courses, tennis courts, airfields etc) at a rate of 375 — 1,500 g/ha.
Product Overview
Product Type
Plant Growth Regulator
Product Name
Attraxor®
MAPP No.
18939
Active Substances
100 g/kg prohexadione
Formulation
Water soluble granules
Areas of Use
Managed amenity turf, amenity grassland
Amateur/Professional
Professional
Attraxor® has been shown to effectively regulate growth of managed amenity turf. The active substance inhibits the giberrelic acid pathway which results in a reduction of turf height and turf biomass. Root growth is promoted through the use of Attraxor® whilst turf colour and quality are maintained.
Prohexadione, the active substance in Attraxor® is activated in the tank by the addition of water; therefore growth regulation occurs rapidly following application of the product.
---
Instructions for Use
Where to use: For use on managed amenity turf.
When to use:
Apply when grass is growing consistently and air temperatures are between 7°C — 21°C.
Initial application can be made once there have been 450 growth degree days in the year based on the zero GDD model.
Subsequent applications can be made every 21 days from this point.
Attraxor Application Window
Jan
Feb
Mar
Apr
May
Jun
Jul
Aug
Sep
Oct
Nov
Dec
How to use*:
Add 3/4 of the required water to the spray tank.
Before adding any other products; remove top hat filter and pour Attraxor® directly into the tank whilst agitating the water.
Agitate well to ensure Attraxor® is fully dissolved then add remaining water through top hat filter.
Apply one hour after mowing in slow drying conditions.
Additional information:
Use the lowest stated water volumes when mixing with hard water.
Ideal pH of spray solution is 4.5 - 5.5.
Add Attraxor into the spray water before any other products
Having removed the top hat filter, add Attraxor directly into t a spray tank containing 3/4 of the final spray volume and agitate until dissolved
Attraxor should be applied alongside 2.5 kg/ha supplementary nitrogen.
Do not mix with fertilisers containing calcium, magnesium or boron.
Replace lid immediately as Attraxor® granules will rapidly absorb water from the atmosphere.
Do not apply when turf is stressed or in direct sunshine.
Do not irrigate for at least four hours post application.
* Application rates for Attraxor® are dependent on turf height and presence/absence of Poa annua. See tables below for more detailed application rate information.
Turf Height > 8 mm
Golf Tees, Surrounds and Fairways, Sports Pitches, Race Courses, Tennis
Situation
Application Rate
Water Volume
Supplementary Nitrogen
Spray Quality
Application Interval
Poa annua is present
750 g/ha
300 - 600 L/ha
2.5 kg N/ha
Medium
21 Days
Poa annua not present
750 - 1,500 g/ha
300 - 600 L/ha
2.5 kg N/ha
Medium
21 Days
Turf Height < 8 mm
Golf Greens, Bowling Greens, Fine Ornamental Lawns.
Situation
Application Rate
Water Volume
Supplementary Nitrogen
Spray Quality
Application Interval
Poa annua is present
375 g/ha
300 - 600 L/ha
2.5 kg N/ha
Medium
21 Days
Poa annua regulation
500 - 650 g/ha
300 - 600 L/ha
2.5 kg N/ha
Medium
21 Days
Poa annua not present
650 - 1,500 g/ha
300 - 600 L/ha
2.5 kg N/ha
Medium
21 Days
---
Tank Mix Companions
Option 1
Mix with ammonium sulphate in the tank to:
Keep the spray solution within the optimal range of pH 4.5 - 5
Provide supplementary nitrogen at a rate of 2.5 kg N/Ha
Option 2
Where nitrogen application is not the desirable mix, utilise a pH indicator followed by a turf pigment.
Suitable products:
Water conditioner
Green Lawnger Pro HC pigment at 1.2 L/ha
---
Active Substances - Prohexadione
Bio-Chemical Mode of Action: Prohexadione reduces plant growth by inhibiting the synthesis of gibberellins.
Mobility: Prohexadione has xylem mobile activity which means that it is absorbed through the leaves then moves upwards through the plant within the xylem (water conducting tissues).
Application Timing: Plant growth regulators should be applied when the plant is actively growing. It is recommended that prohexadione applications commence after 450 growth degree days in the year. Subsequent applications can take place every 21 days.
---
I start using Attraxor® on my greens at the end of April or beginning of May. As a result we detect up to a 50% reduction in mowing intervals
Thorsten Schmitt
Head Greenkeeper
Golf Club Mannheim-Viemheim
We use an Attraxor® programme all season across our natural grass pitches, both at the training ground and stadium. From this we see a 50% reduction in mowing frequency and clipping volumes, which provides considerable time and cost savings
Bundesliga
UEFA Champions League
---
For further information on Attraxor®, please contact a member of our technical sales team on 01952 897917.
Product Labels
| SKU | Product | Product Label (PDF Link) |
| --- | --- | --- |
| 187918 | Attraxor® - Plant Growth Regulator | Product Label (PDF) |
Safe use of pesticides
The purchaser and/or end users are responsible for ensuring that these products are used in line with industry Approved Codes of Practice. All operators must be trained and certificated in using and applying any Ministry Approved professional product.
Please be aware that by proceeding you are purchasing a professional pesticide product.
You must ensure the end user of these products complies with the DEFRA/HSE Code for the Safe use of Pesticides:
"By law, everyone who uses pesticides professionally must have received adequate training in using pesticides safely and be skilled in the job they are carrying out."