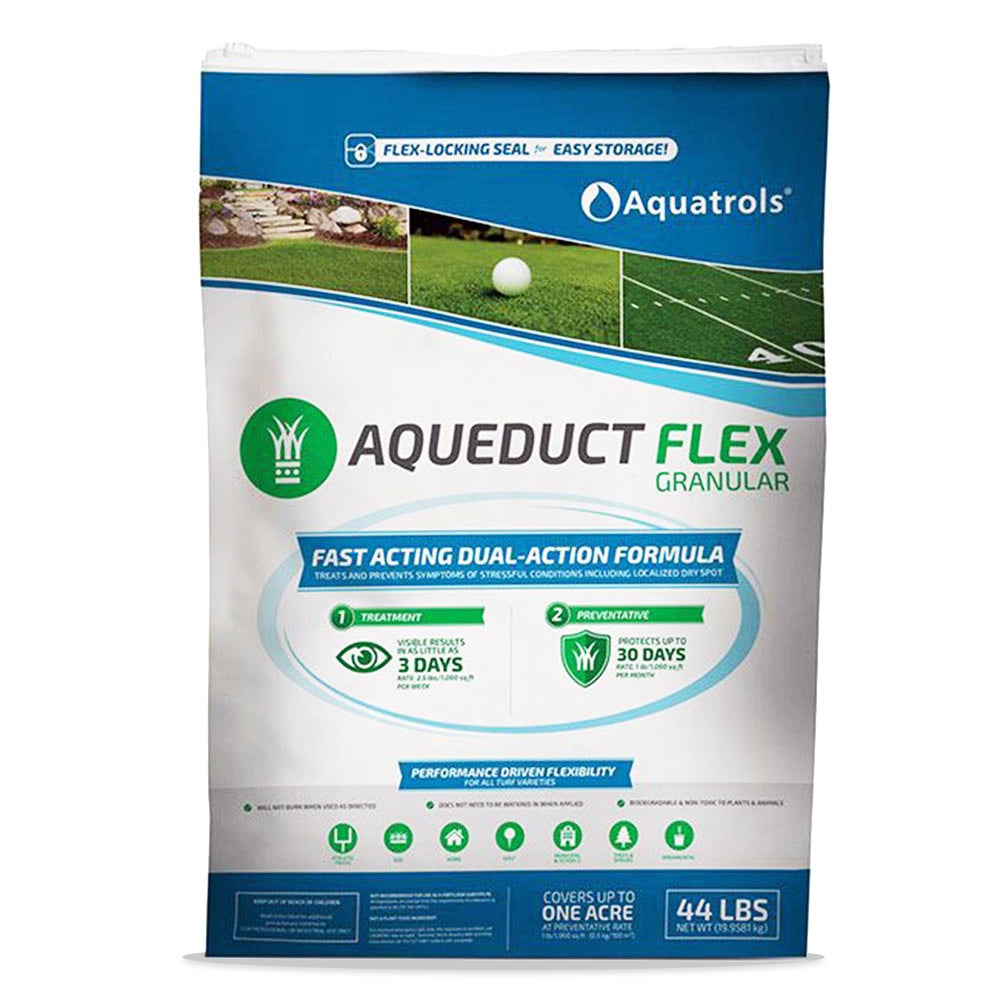 Description
AN ALL-NEW FAST ACTING DUAL-ACTION GRANULAR THAT TREATS AND PREVENTS LOCALISED DRY SPOT
Provides rapid recovery of stressed turf with visible results in as little as 3 DAYS when used at the treatment rate
Provides up to 30-DAY PROTECTION against the development of localised dry spot when applied on a monthly basis at the preventative rate
Safe to use on all turf varieties and areas, including golf course greens, tees, fairways, athletic fields, and residential lawns
Safe to use on ornamental gardens, landscapes, trees, and shrubs
---
Perfect for use on Bowling Greens or for treating localised dry spot on Golf Greens, Aqueduct Flex contains a fast acting dual-action formula specifically designed to give turf care professionals superior performance with flexible options for dealing with stressful conditions.
Flexible Options for Dealing with Stressful Conditions - from Aquatrols
---
---
What it Does
How to Apply
Coverage
Where to Use
Treats and prevents symptoms of stressful conditions for all turf varieties.
Whenever symptoms of stressful conditions initially appear, or on a monthly basis to prevent the onset of symptoms.
Treatment: Covers 1597 m2 at 1.25 kg/100 m2
Golf
Lawns & Gardens
SWports Pitches
Local Authorities & Schools
Trees & Shrubs
Ornamental
Preventative: Covers 3992 m2 at 0.5 kg/100 m2
---
For further information on Aqueduct Flex Granular, from Aquatrols, please contact a member of our technical sales team on 01952 897917.
Product Labels
| SKU | Product | Product Label (PDF Link) |
| --- | --- | --- |
| 191045 | Aqueduct Flex Granular - Wetting Agent | Product Label (PDF) |