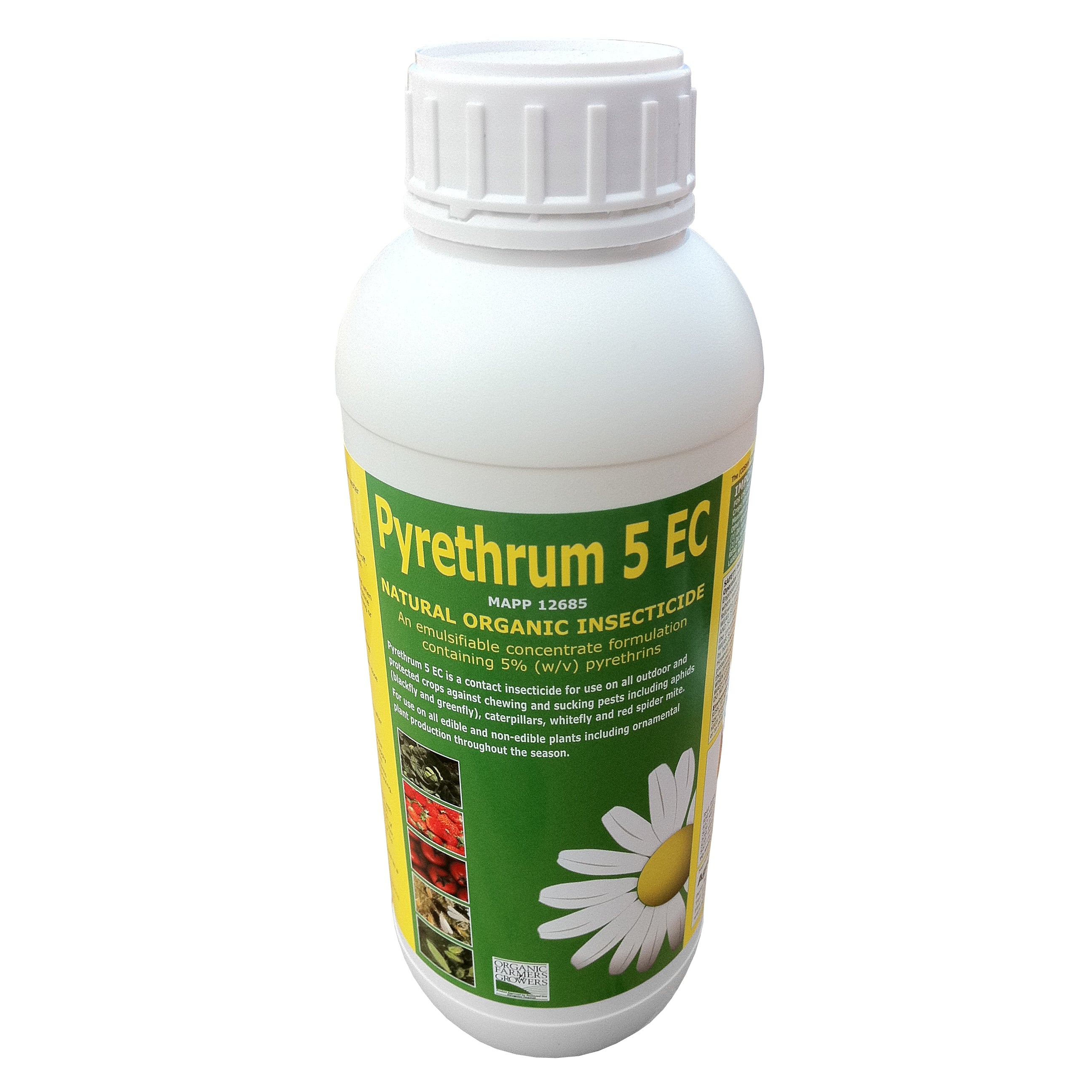 Description
MAPP no. 118532
PYRETHRUM 5EC is an emulsifiable concentrate prepared from pyrethrum – nature's own rapid-acting insecticide. PYRETHRUM 5EC controls beetles, aphids, blackfly, greenfly, caterpillars and white fly on organic flowers, fruit, and vegetables. For use on protected crops (aubergine, squash, cucumber, courgette, pepper chilli, tomato) throughout the season.
Whilst dried Chrysanthemum flowers (chrysanthemum cinerariaefolium) have been available in Europe for 150 years and were sold in most chemist shops for flea and louse control, liquid concentrates containing extracts from this flower miscible with water and suitable for spray application to crops had not been registered for use by the Pesticides Safety Directorate until now.
Through the efforts of the Friends of Pyrethrum organisation a formulation using this natural insecticide is now registered and is suitable for use in Organic and non-organic farming, it kills insect pests quickly without leaving any toxic residuals. Approval by PSD and the Soil Association's approval of Pyrethrins now means that Pyrethrum 5EC is available for immediate control of Aphids, Blackfly, Greenfly, Whitefly,Thrips, Springtails, Caterpillars, Moths, red spider mite, Beetles and many other pest insects.
Pyrethrum 5EC has a wide range of contact action (non-systemic) against the majority of insect pests. Because of its very short persistence and low toxicity crops can be harvested 24 hours after application.
Pack Sizes Available:
---
Application Information
Application Rate:
Organic media grown plants 2.4L per hectare
Soil grown plants 1.1L per hectare
---
For advice or further information on Pyrethrum 5EC 1L, speak to a technical sales advisor on 01952 897917.
Safe use of pesticides
The purchaser and/or end users are responsible for ensuring that these products are used in line with industry Approved Codes of Practice. All operators must be trained and certificated in using and applying any Ministry Approved professional product.
Please be aware that by proceeding you are purchasing a professional pesticide product.
You must ensure the end user of these products complies with the DEFRA/HSE Code for the Safe use of Pesticides:
"By law, everyone who uses pesticides professionally must have received adequate training in using pesticides safely and be skilled in the job they are carrying out."