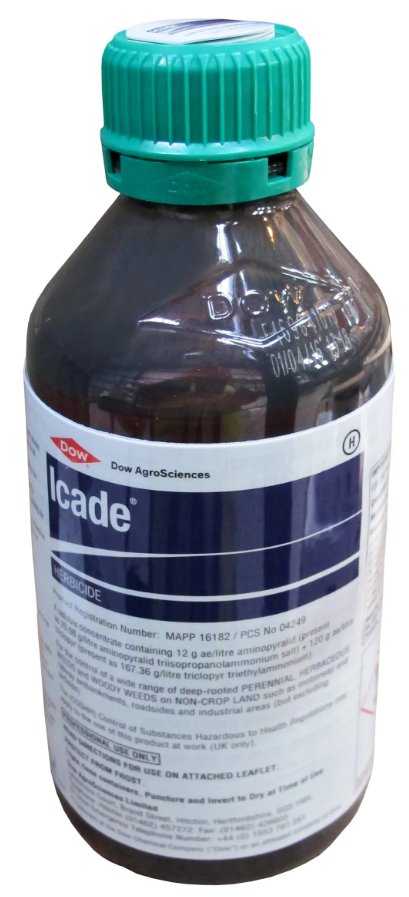 Description
Product Overview
Product Type
Herbicide
Product Name
Icade
MAPP No.
19069
Active Substances
Aminopyralid & triclopyr
Formulation
Soluble concentrate
Areas of Use
Amenity grassland
Amateur/Professional
Professional
Phytomobility
Phloem mobile systemic
Mode of Action Group
Synthetic auxins
Icade is a systemic penetrant selective contact herbicide containing 12 g/l aminopyralid and 120 g/l triclopyr which can be used to control a broad range of perennial, herbaceous and woody weeds in amenity grassland. Icade can be used to spot treat difficult to control rates using a solution of 150-200 ml of Icade to 10 l water.
Icade is perfect for helping to prevent damage to  buildings and other structures that can be caused by woody weeds and other invasive weeds. It can be used in a variety of amenity settings including railway embankments, cemeteries, utilities and parkland. 
The active substances in Icade are absorbed into the plant through the foliage and translocated to the plant roots meaning that the whole plant, not just the top growth, is effectively controlled. Icade is designed to be spot sprayed onto difficult to control weeds to improve application coverage and control of tough and invasive weeds.
Product Benefits
Effective control of tough and invasive weeds including Japanese knotweed, giant hogweed, buddleia and brambles
Rainfast in 1 hour
Controls broadleaved weeds without damaging grasses
Controls the whole weed from tip to root
---
Instructions for use
Where to use
Icade can be used on all amenity grassland (except airfields or land that will be grazed by livestock) including areas such as golf roughs, railway embankments and roadside verges:
Amenity grassland: Areas of semi-natural or planted grassland subject to minimal or non-intensive management
Application Window
Jan
Feb
Mar
Apr
May
Jun
Jul
Aug
Sep
Oct
Nov
Dec
Icade can be used between March and August to treat weeds that are actively growing.
Icade can be applied once per year if applications are made between 1st March and 1st June. Applications after this date are restricted to one application in 2 years (1st June-31st August) or one application in 3 years (1st August-31st August).
How to use
Icade should be applied using either a knapsack sprayer or a suitable lance from a tractor mounted sprayer using a solution of 150-200 ml of Icade per 10 l water.
Half fill the spray tank with water
Add the required amount of Icade and agitate to ensure thorough mixing
Add the remaining water and continue to agitate
Maintain agitation of the spray solution whilst spraying
When applying Icade, spray target weeds ensuring that they are thoroughly wetted but that the spray solution is not running off the leaf. Following application of Icade avoid cutting the grass for at least 7 days to allow maximum translocation of the active substances to the roots.
---
Additional Information
Icade must not be used on airfields, land that will be grazed by livestock
Icade must not be used where the vegetation will be cut for animal feed, fodder or bedding or for composting or mulching within one year of treatment
Spot applications should be applied to no more than 20% of the area
Care should be taken to avoid contact with non-target plants
Icade should not be used within one year of sowing seed
Apply only in conditions in which the grass and weeds are actively growing


---
For further information regarding Icade Herbicide 1L, please contact our technical sales team on 01952 897917.
---
Find more information in our guide
How To Know Which Herbicide to Choose
Additional Files
| SKU | Product | File | Download |
| --- | --- | --- | --- |
| 111045 | Icade Herbicide 1L | aminopyralid stewardship agreement final icade | Download file (PDF) |
Safe use of pesticides
The purchaser and/or end users are responsible for ensuring that these products are used in line with industry Approved Codes of Practice. All operators must be trained and certificated in using and applying any Ministry Approved professional product.
Please be aware that by proceeding you are purchasing a professional pesticide product.
You must ensure the end user of these products complies with the DEFRA/HSE Code for the Safe use of Pesticides:
"By law, everyone who uses pesticides professionally must have received adequate training in using pesticides safely and be skilled in the job they are carrying out."