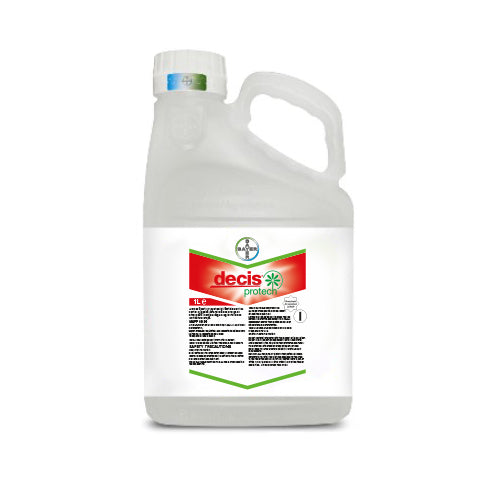 Description
Product overview
Product type
Insecticide
Product name
Decis Protech
MAPP No.
16160
Active substances
15 g/l deltamethrin
Formulation
Emulsion, oil in water
Areas of use
Amenity vegetation, Edible crops
Amateur/Professional
Professional
Phytomobility
Contact and residual action
Mode of action group
3a: Pyrethroid insecticide
Decis Protech is a broad spectrum contact insecticide for the control of insect pests including aphids, caterpillars, mealy bugs, scale insects and whitefly in amenity vegetation and horticultural crops. It can be applied up to three times per year at a rate of 120 ml per 100 litres water in amenity vegetation.
Deltamethrin is an effective pyrethroid insecticide which can control a wide range of insect pests both through contact and residual action. Deltamethrin can improve the visual appearance and health of amenity vegetation including; ornamental plants, trees and shrubs by controllling pest species. It is also recommended for use on a wide range of horticultural crops which can be negatively impacted by sucking and chewing pests such as aphids.
---
Instructions for use
Where to use
Decis Protech has on label approval for use on the following crops:
Amenity vegetation (outdoor)
Fruit: Apple, Pear, Raspberry
Protected Vegetables: Pepper
Outdoor Vegetables: Broad bean, brussels sprout, cabbage, cauliflower, lettuce (outdoor), swede, turnip
Decis Protech also has Extension of Authorisation for Minor Use (EAMU) approvals for a variety of ornamental and edible crops. Consult the EAMU text for specific conditions before use.
When to use
For applications to control pest insects (whitefly, scale insects, caterpillars, capsids, thrips, aphids and mealy bugs) on amenity vegetation, apply when the pest is first seen.
Consult the labels for specific information relating to other crops and pests.
How to use
Ensure spray tank is clean and half fill with water.
Add the required amount of Decis Protech to the spray tank and complete filling with water.
Decis Protech can be applied through a knapsack or vehicle mounted hydraulic sprayer (boom sprayer) or through a suitable broadcast air-assisted sprayer.
A medium spray quality should be used and the foliage covered thoroughly including the undersides of the leaves to ensure good control.
Other information
A Local Environment Risk Assessment Plan (LERAP) must be carried out in accordance with CRD's published guidance or the statutory buffer zone must be maintained.
Do not spray crops suffering from drought or other stresses.
Do not spray wet crops where run-off is likely to occur.
Test ornamental plant sensitivity by spraying a small number of plants first.
Do not apply in a tank mix with a triazole-containing fungicide when bees are likely to be actively foraging.
A minimum interval of 20 days must be observed between applications to eligible crops.
Avoid spraying within 5 m of the field boundary to reduce effects on non-target insects or other arthropods.
---
Active substances
Deltamethrin
Chemical group: Deltamethrin belongs to the Pyrethroid sub-group of insecticides.
Bio-chemical mode of action: Pyrethroids affect the insects nervous system by keeping sodium channels open.
Mobility: Deltamethrin is a contact and residual insecticide which affects insects following direct contact or when ingested.
Application timing: Deltamethrin is best applied when the insect pest is first observed.
Resistance: Some species of aphid and whitefly are resistant to pyrethroid insecticides. Where resistance occurs repeated treatments are likely to result in lower levels of control. To reduce the risk of resistance use no more than the recommended number of applications on any crop each year. Do not apply the insecticide at a lower rate than is recommended and use as part of an Integrated Pest Management strategy which seeks to utilise non-chemical options for control and to rotate active substances with different modes of action.
---
For further information regarding Decis Protech, please contact our technical sales team on 01952 897917.
Safe use of pesticides
The purchaser and/or end users are responsible for ensuring that these products are used in line with industry Approved Codes of Practice. All operators must be trained and certificated in using and applying any Ministry Approved professional product.
Please be aware that by proceeding you are purchasing a professional pesticide product.
You must ensure the end user of these products complies with the DEFRA/HSE Code for the Safe use of Pesticides:
"By law, everyone who uses pesticides professionally must have received adequate training in using pesticides safely and be skilled in the job they are carrying out."