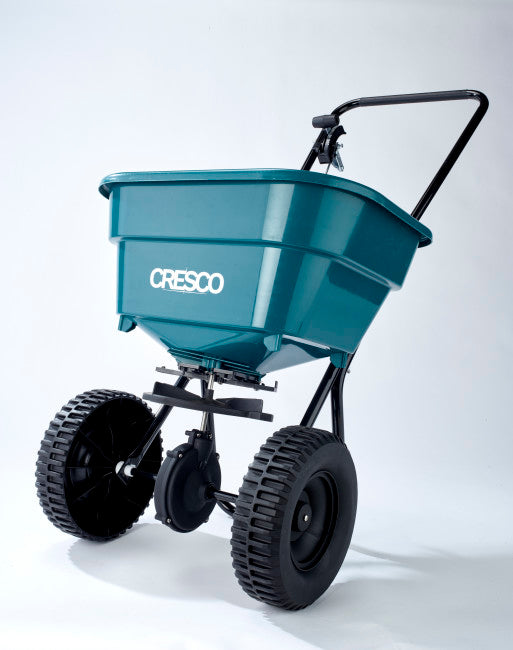 Description
The Cresco 10 Fertiliser Spreader is the perfect spreader for fertilising your lawn. Spread fertiliser in Spring and Summer with this easy-to-use, adaptable fertiliser spreader.
Please note: following customer feedback, we have worked with the manufacturer to ensure that the spreaders being sent out, now arrive partially assembled.
The spreader for fertilising your lawn
You spread fertiliser on your lawn in the spring and summer. This lawn fertiliser spreader ensures you can spread materials efficiently and accurately over a surface such as a lawn.
The Cresco 10 fertiliser spreader is perfectly adapted for spreading fertiliser on your lawn in summer and/or spring. Including easy adjustments to give perfect distribution, 20 different settings and border control, and a new hopper mould to stop product being left in the hopper.
Cresco 10 makes it simple to get your fertiliser spreading jobs done, and you know you can rely on it when you need it.
Recommended for applications on areas 150 m² to 500m² or the area of a tennis court
---
Benefits
Easy adjustments give perfect distribution
20 different settings
Border control
New hopper mould stops product being left in the hopper
Easily adjustable output
Interchangeable slider system so can be used as fertiliser or salt spreader
---
How to use
Cresco 10 Spreader Assembly Instructions


Health and safety
Load bearing capacity
45 kg
When using don't exceed 30 kg
---
About Cresco
With over 25 years industry experience, Cresco products have been designed and built from scratch to offer improved quality, new modern technology, and a much needed expansion to the current pedestrian spreader market.
---
For further information on Cresco 10 Fertiliser Spreader, please contact a member of the technical sales team on 01952 897917.
Additional Files
| SKU | Product | File | Download |
| --- | --- | --- | --- |
| 205019 | Cresco 10 Fertiliser Spreader | Cresco 10 Assembly Instructions | Download file (PDF) |
| 205019 | Cresco 10 Fertiliser Spreader | Amenity Choice Cresco Spreader Settings A5 Sheet | Download file (PDF) |