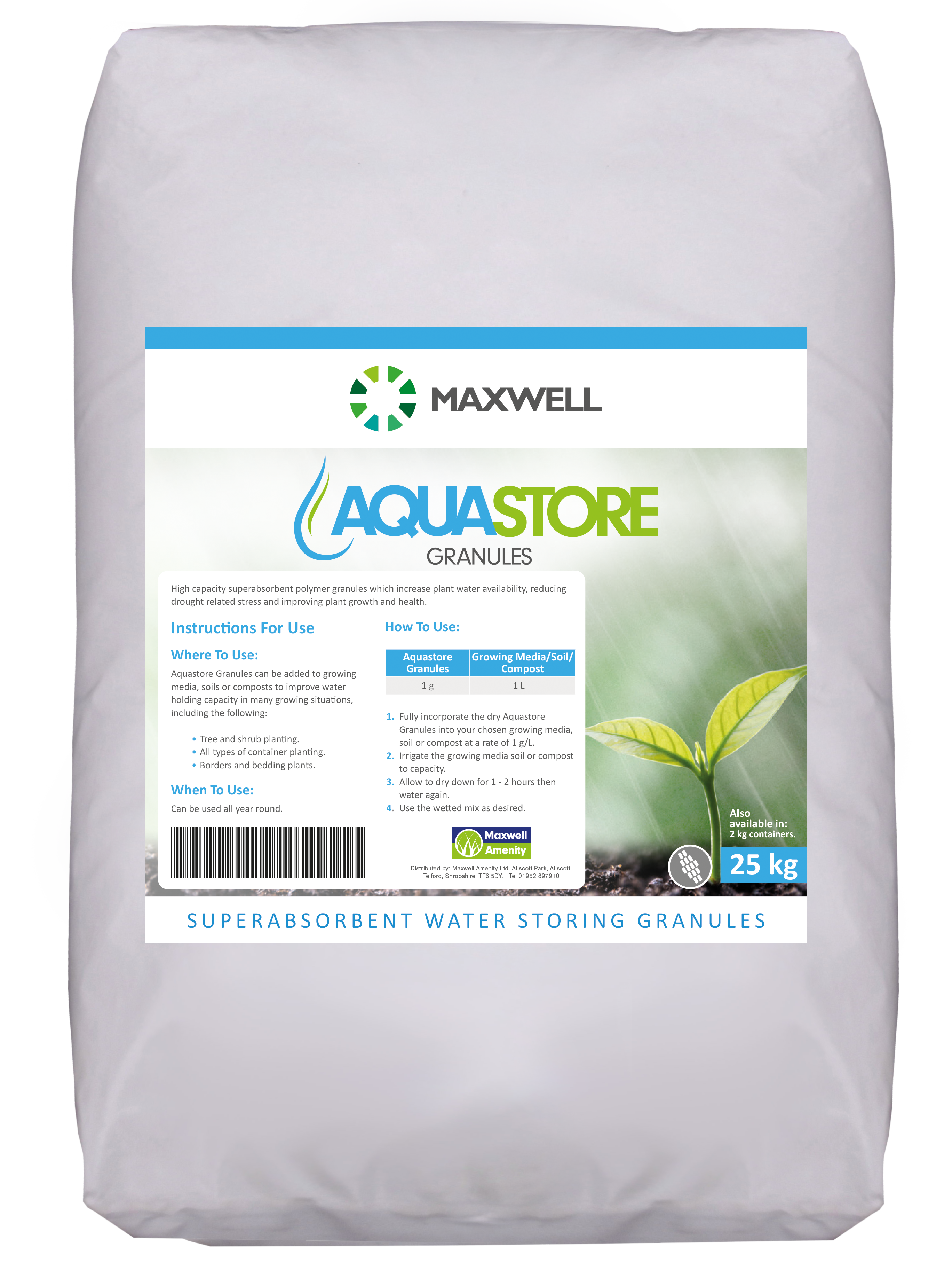 Description
Suberabsorbent Water Storing Granules 25 kg
High capacity superabsorbent polymer granules which increase plant water availability, reducing drought related stress and improving plant growth and health.
Aquastore granules are 0.8 - 2 mm when dry but expand when wetted as they absorb up to 300 times their own weight in water. The stored water is then slowly released back into the growing media, soil or compost as the granule breaks down. This process can take up to four years to complete and can help provide plants with increased water availability throughout this time.
Aquastore granules can be used in a variety of situations, wherever increased water availability will be beneficial to plant growth and health. The benefits of this include:
Reduced watering frequency
Increased plant survival
Increase in plant health
Increase in plant growth
---
Instructions for Use
Where to Use
Aquastore Granules can be added to growing media, soils or composts to improve water holding capacity in many growing situations, including the following:
Tree & shrub planting
All types of container planting
Borders and bedding plants
When to Use
Can be used all year round
How to Use
| Aquastore Granules | Growing Media/Soil/Compost |
| --- | --- |
| 1 (g) | 1 (L) |
Fully incorporate the dry Aquastore Granules into your chosen growing media, soil or compost at a rate of 1 g/L.
Irrigate the growing media soil or compost to capacity.
Allow to dry down for 1 - 2 hours then water again.
Use the wetted mix as desired.
* Packaging may vary
---
For further information on Aquastore Granules, please contact a member of our technical sales team on 01952 897917.
Product Labels
| SKU | Product | Product Label (PDF Link) |
| --- | --- | --- |
| 188170 | Aquastore Water Storing Granules | Product Label (PDF) |